Dolgellau Flood Risk Management Scheme
Reducing flood risk in Dolgellau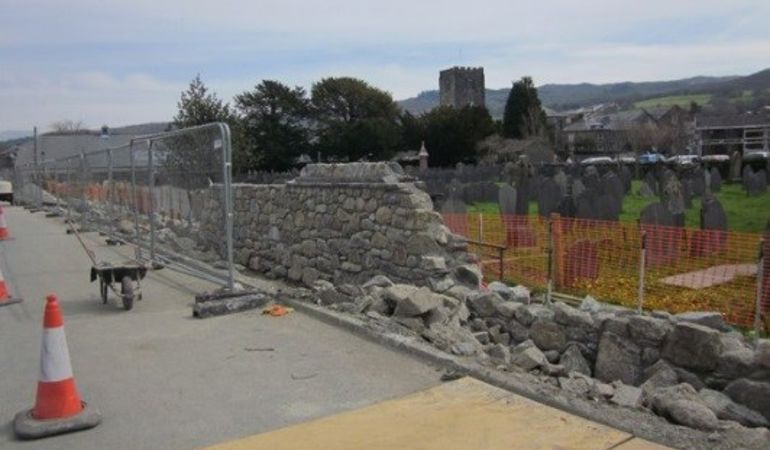 Update/Newsletter May 2015
Natural Resources Wales is carrying out work on the Dolgellau Flood Risk Management Scheme – work that will provide great benefits to the local community.
We are making improvements to existing walls and building new defences and floodgates, which will increase protection from flooding for over 300 properties in the town.
The main works
The main works started in late September 2014 and are being undertaken by Contractor VBA working with Alun Griffiths (Contractors) Ltd. As part of the scheme, work to remove the Aran weir was completed in October 2014.
As you will see, a lot of the concrete structures have now been built and we are moving on to the cladding work.
NRW and our contractors apologise for any disruption caused during the construction period. We are aware that car parking in the town has been impacted and will work hard to get as many car parking spaces as possible back in use as soon as possible. In the meantime, thank you for your patience and understanding.
Work on the Marian and the Aran
Work to build a ramp on the Marian access road will start soon. We also have more walls to build on the Aran along with refurbishing other parts of the Aran riverside walls. We will then reinstate the ground impacted by the works, bringing it back to its pre-works condition. We will be working closely with landowners, Dolgellau Town Council, the Marian Trust, and other community groups throughout this work so that any concerns are addressed. 
The main flood risk works are due to be completed this Summer. A specialist landscaping contractor will be planting trees and completing works in Marian Bach Park in the Autumn.
The total cost of the Dolgellau project is estimated at £5.6 million, funded by Welsh Government.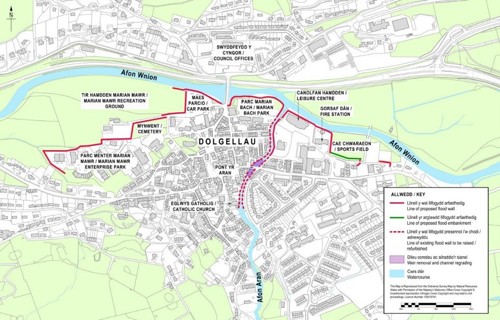 Your contacts
If you have any queries regarding this scheme please contact John Davies on 0300 065 3858 or Ann Griffith on 0300 065 3737.
Register for our free flood warning service
We cannot eliminate flood risk completely, and recommend that people in flood risk areas sign up to our Free Flood Warnings, via our website – https://naturalresources.wales/fwd
Some 150 homes in the Dolgellau area have already registered for this service.