Ceri Forest, near Newtown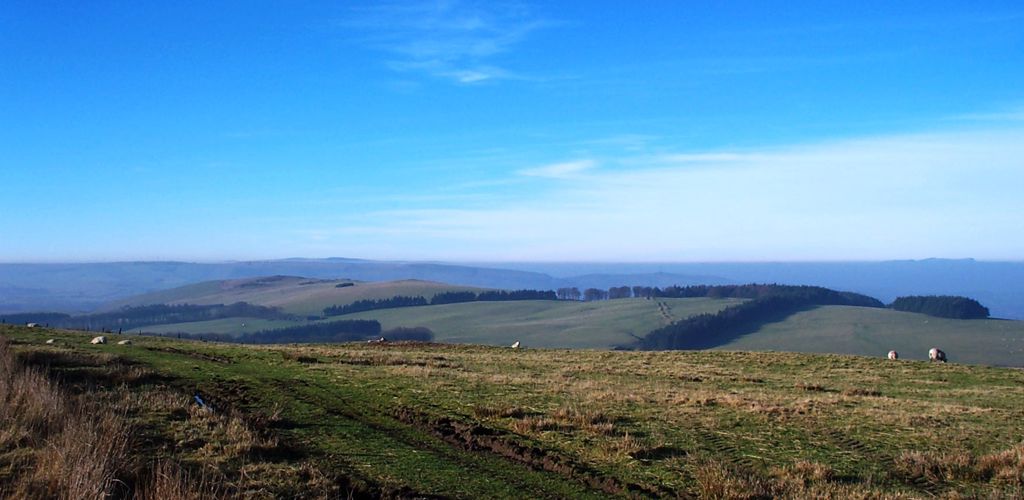 Welcome
Block Wood is one of the conifer plantations that make up Ceri Forest.
You can access the Kerry Ridgeway long distance footpath from the Block Wood car park.
There are good views from the picnic tables amongst the trees around the car park.
Kerry Ridgeway long distance footpath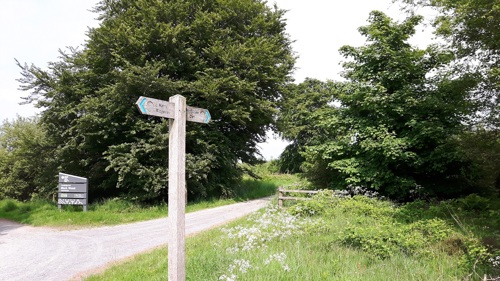 The Kerry Ridgeway long distance footpath passes through Ceri Forest.
The Kerry Ridgeway is an ancient trackway with a long tradition as a trade and drovers' route from Wales to markets in England.
The route never dips below 1000 feet (300 metres) above sea level, resulting in remarkable views to Wales on one side and England on the other.
Walkers, horse riders and cyclists may follow this route.
Walking the Kerry Ridgeway
The Kerry Ridgeway long distance footpath is 15 miles (24 kilometres) long from the Cider House car park, near the village of Dolfor in Powys, to Bishops Castle in Shropshire.
The Kerry Ridgeway footpath is looked after by Powys County Council.
There is some waymarking but we recommend that you take a map for longer walks.
If you park at the Block Wood car park, you can easily reach some of the historical features on the Kerry Ridgeway.
Walk towards Cider House Farm from Block Wood car park to see two Bronze Age burial mounds, known as Two Tumps
Walk in the other direction from Block Wood car park to see the distinctive fox weathervane perched on a telegraph pole, known as Kerry Pole
If you walk on from Kerry Pole, you will reach prehistoric ditches known as Upper Short Ditch and Lower Short Ditch
If you would like to do a longer circular walk, the Kerry Ridgeway footpath cuts through Offa's Dyke National Trail
Closures and diversions
Please note:
Sometimes we need to close or divert trails for your safety whilst we undertake maintenance work or forest operations
Occasionally we may have to close a site in extreme weather, such as high winds or snow and ice due to the risk of injury to visitors or staff
Please always follow any instructions onsite and make sure you follow any temporary diversion signs in place
How to get here
Location
Block Wood car park in Ceri Forest is situated off the B4368, three miles south of the village of Kerry.
It is in the county of Powys.
Ordnance Survey map
Ceri Forest is on Ordnance Survey (OS) map 214.
The OS grid reference is SO 149 862.
Public transport
The nearest train station is in Newtown.
Newtown is served by bus services 41 and 81.
For details of public transport visit Traveline Cymru's website. 
Parking
Car parking in the Natural Resources Wales car park at Block Wood is free of charge.  
Overnight parking is not permitted.
The Cider House car park at the start of the Kerry Ridgeway is located on the B4355 and is managed by Powys County Council.
Contact details
Tel: 0300 065 3000