Garwnant Visitor Centre, near Merthyr Tydfil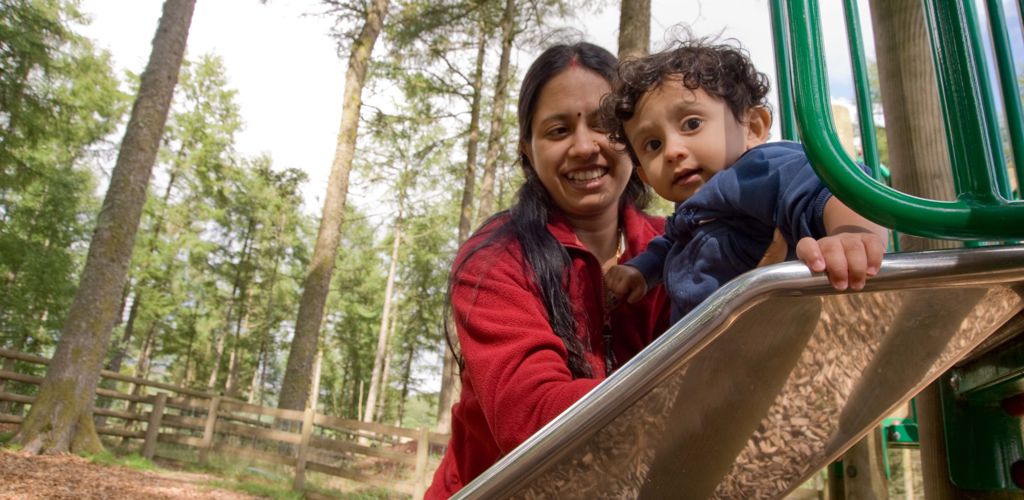 The visitor facilities at Garwnant are now managed by Forest Holidays. The car park, trails, café and visitor centre remain open to day visitors. Forest Holidays will be building timber holiday cabins in the forest and upgrading the visitor centre, café and shop.
Welcome
Garwnant Visitor Centre is the southern gateway to the Brecon Beacons National Park and is easy to find, just off the A470 north of Merthyr Tydfil.
Several walking trails explore this family-friendly forest and one is accessible for pushchairs and visitors using wheelchairs.
There are two short mountain bike trails for younger riders and a skills park with child-friendly obstacles to improve skills and build confidence.
There is a children's outdoor play area and an animal puzzle trail with sculptures to spot.
The café has an outside seating area, and there is a large picnic area around the car park and picnic benches along the walking trails.
Walking trails
The walking trails are waymarked from start to finish.
Look out for the information panel at the start of the trails.
Find out about walking trail grades.
Willow Walk
Grade: Accessible
Distance: ½ mile/0.8 kilometre
Trail information: The trail allows easy access to explore the forest for visitors with wheelchairs, electric buggies and pushchairs. It follows a level gravel track with some gradual inclines and slopes.
The Willow Walk is an accessible trail with a number of stream crossings.
After crossing three bridges, the trail goes through a willow tunnel on its way back to the visitor centre.
Wern Walk
Grade: Moderate
Distance: 1¾ miles/2.9 kilometres
Trail information: The route follows a stoned track and forest road and has some uphill and downhill slopes.
The Wern Walk is a woodland trail past the ruins of Wern Farm, which reveals this area's agricultural past.
The trail returns to the visitor centre along a forest road which offers some good views along the way.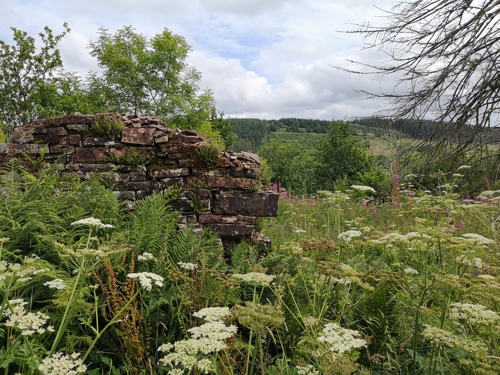 Discovery trails
Tree Discovery Trail
Grade: Accessible
Distance: ½ mile/0.8 kilometre
Trail information: This discovery trail follows the Willow Walk route. 
Download the discovery trails leaflet from the bottom of this web page or pick up a copy on arrival.
Then set off on the Willow Walk and follow the clues and map around the trail to identify the trees.
Take a crayon to make leaf rubbings from the signs.
Animal Sculpture Trail
Grade: Easy
Distance: ¾ mile/1.1 kilometres
Download the discovery trails leaflet from the bottom of this web page or pick up a copy on arrival.
Then follow the clues and the map around the trail keeping your eyes peeled for the animals.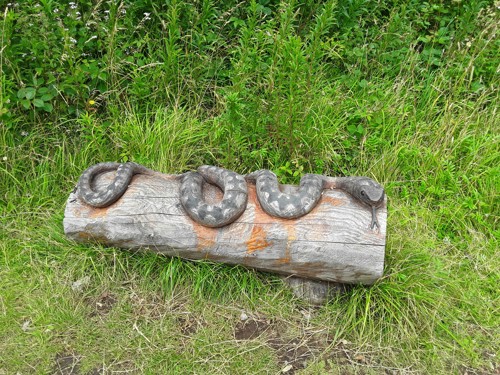 Mountain Bike Skills Park
The Mountain Bike Skills Park has a series of child-friendly obstacles designed especially to improve skills and build confidence and two short trails.
Riders need to be able to pedal uphill and to negotiate simple turns.
All features can be ridden slowly or avoided completely and riders push their bike up the ramp and ride around each of the features in turn.
Read the relevant onsite information before setting off and adult supervision is highly recommended for young children.
Rowan Trail
Grade: Green (easy)
Distance: 570 metres
The Rowan mountain bike trail has been designed for junior first time mountain bikers and it can be ridden fast or slow.
It starts with a warm-up in the Bike Park, and then goes up a broad single track climb.
It descends down a series of berms and open turns, humps and bumps and finishes below the Bike Park.
Spruce Trail
Grade: Blue (moderate)
Distance: 470 metres
The Spruce mountain bike trail has been designed to improve riding skills.
It shares the ascent with the Rowan Trail and then splits off to follow a short rhythm section.
An easy drop off is followed by some steep bermed corners and the fast descent flows through more turns and a fast finish, leading back on to the shared ascent.
The route then descends the Rowan Trail to finish.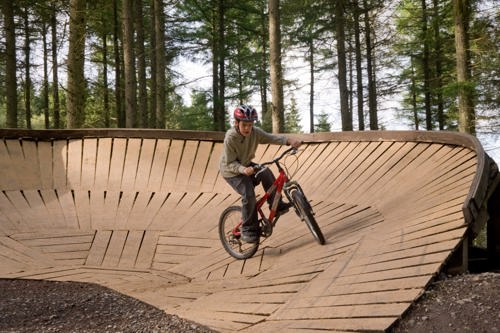 Taff Trail
The Taff Trail runs for 55 miles between Cardiff and Brecon along a mixture of riverside paths, railway paths and forest roads.
A section of the Taff Trail suitable for walkers passes through Garwnant.
The Taff Trail is part of the National Cycle Network, cared for by Sustrans.
For more information go to the Sustrans website.
Children's play area
The children's outdoor play area is situated near the visitor centre and picnic area.
All of the play equipment is of robust timber construction which blends in with the forest surroundings.
There are two sections, one is suitable for under 8 year old children and the other is suitable for 7-15 year old children.
The play area is maintained to a high standard by site staff and it receives an annual independent RoSPA inspection.
Fishing
There is no fishing on the Garwnant site but you can buy a permit to fish in reservoirs nearby that are managed by Welsh Water.
For more information go to the Welsh Water website.
Café
The café is adjacent to the visitor centre and it is run by local company, Just Perfect Catering.
The café serves hot and cold drinks, cakes, lunches and daily specials. 
There are views from the restaurant area and there is outside seating for warmer days.
For more information and opening times, contact Just Perfect:
enquiries@justperfectcatering.co.uk
Accessibility information
Summary of facilities for disabled visitors
parking for Blue Badge holders
wheelchair access to the visitor centre and café
accessible toilets (with baby changing facilities)
Changing Places toilet (with baby changing facility)
hearing loop in café, meeting room and information centre 
picnic tables with easy access for wheelchairs and electric buggies
accessible trail (Willow Walk)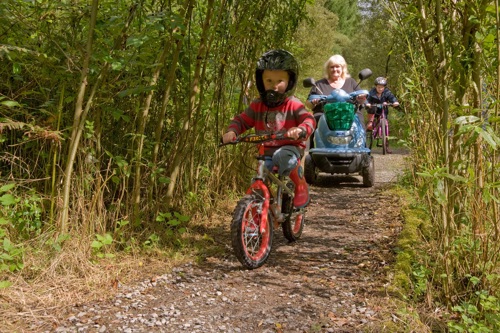 Changing Places toilet
There is a Changing Places toilet in Garwnant Visitor Centre which was donated by Mountway, a company based in the nearby town of Tredegar.
People with profound and multiple learning disabilities, as well as other serious impairments such as spinal injuries, muscular dystrophy, multiple sclerosis or an acquired brain injury, often need extra facilities to allow them to use the toilets comfortably.
Changing Places toilets are different to standard disabled toilets with extra equipment, including a height adjustable changing bench and a hoist, and more space to meet their needs.
You will need a Radar key to access the Changing Places toilet. 
For more information go to the Changing Places website.
Opening times 
Please check the top of this page or the Garwnant Visitor Centre Facebook page for any changes to these opening times.
Car park
See parking section further down this page.
Visitor Centre and toilets
Garwnant Visitor Centre and toilets are open seven days a week, all year round, from 9.30am to 4.30pm.
Café (Just Perfect Catering)
See the latest opening hours on the Just Perfect Facebook page
Temporary closures and diversions to trails
Sometimes we need to close or divert trails for your safety whilst we undertake maintenance work or forest operations.
Please always follow any instructions on site and make sure you follow any temporary diversion signs in place.
Severe weather information
In severe weather, such as high winds or snow and ice, we may have to shut the visitor centre and car park due to the risk of injury to visitors or staff.
Contact us before your visit or check the Garwnant Visitor Centre Facebook page for updates.
Take care in the car park - we have limited resources to remove snow and ice and you should expect to be driving on slippery surfaces as soon as you leave the A470.
Expect all trail surfaces to be slippery - we do not treat any of the trails around the visitor centre or in the forest.
How to get here
Location
Garwnant Visitor Centre is 5 miles north of Merthyr Tydfil. 
It is in the county of Rhondda Cynon Taf.
The postcode for satellite navigation is CF48 2HU.
Ordnance Survey map
Garwnant Visitor Centre is on Ordnance Survey (OS) map OL 12.
The OS grid reference is SO 002 131.
Directions
Take the A470 from Merthyr Tydfil towards Brecon and follow the brown and white signs to the car park.
Public transport
The nearest mainline railway station is in Merthyr Tydfil.
The local bus service which passes the site is the T4 Merthyr to Brecon.
The Beacons Bus also passes the site and operates during the summer.
For details of public transport go to the Traveline Cymru website.
Parking
There is a barrier at the entrance to the car park.
The car park entrance barrier is open at these times:
From March to October: 8am to 6pm

except Mondays

(opening hours are 8am to 5pm)
Bank Holiday Monday: 8am to 6pm
From November to February: 9am to 5pm
The car park exit barrier has "paddles" which allow vehicles to exit the site after the entry barrier has been locked which means you may leave the site whenever you are ready.
Parking charges
The parking charge per day is:
£2 for cars
£5 for minibuses
£10 for coaches
Related document downloads