Promoting Language, Literacy and Communication through nature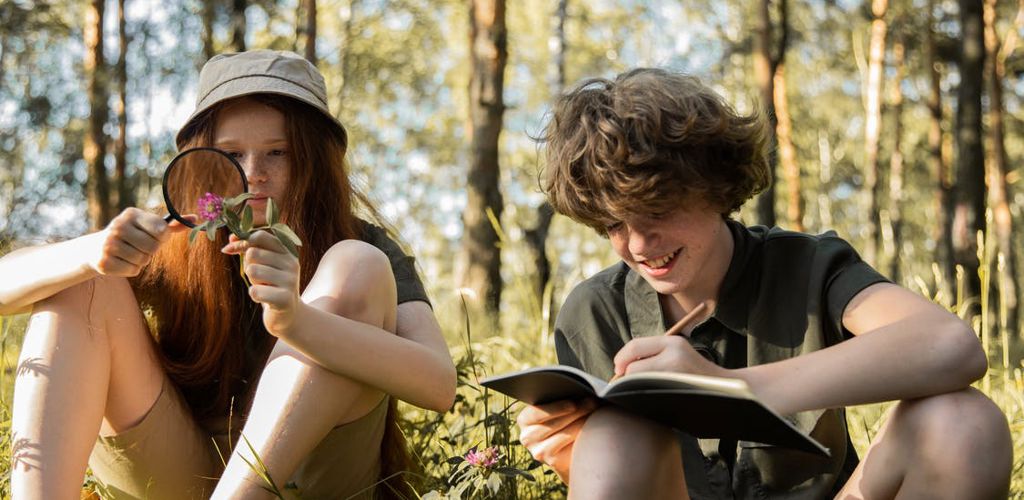 Learning in, learning about, and learning for our natural environment
Whether it be developing vocabulary, composing poetry or promoting oracy, the natural environment is constantly changing and provides a wealth of inspiration for learners. Many of our resources can be used to promote language and literacy whilst improving knowledge and understanding of natural features and processes. 
All the activities and games on this page will help you enable your learners to progress in the ways described in the four purposes of the Curriculum for Wales. Curriculum links are included in the documents and all the activities will help you deliver many aspects of the cross curricular skills within the Literacy and Numeracy Framework (LNF) and Digital Competence Framework (DCF). 
Language and Literacy outdoors, activities and games
From spelling activities to acrostic poetry, the 18 activities and games within the Language and Literacy Outdoors booklet focus on demonstrating how to use the natural environment as a stimulating environment to facilitate language and literacy.
Some of the activities and games require resource cards and information.  Please select from the list below.
Supporting information and resources
Activity 2 Tickly Prickly – (resource cards)
The Lost Words
A Teaching toolkit has been developed by year 2 undergraduate Early Years students at the University of South Wales (USW). The Lost Words began as a response to the removal of every day nature words such as acorn, bluebell, and wren from a widely used children's dictionary because those words were not being used enough by children to merit inclusion.  The Lost Words became a protest to the loss of the natural world and a celebration of the creatures and plants with which we share our lives.
Full up from top to toe with ideas for outdoor learning, the toolkit will inspire and encourage early years children to connect with nature.  Well worth a peep. 
Teaching toolkit - The Lost Words 
Books about nature 
Books are a wonderful resource for introducing and deepening learners' knowledge and understanding about the natural environment.  If you are looking for your next read to support outdoor learning, we've got a range of booklists for you to browse and get some natural inspiration!
Reading power - Fiction about the environment and climate change for children and young adults.  Our booklist, developed with support from the Books Council for Wales, suggests both Welsh and English fiction books that fit this theme.
Young adult booklist – Environment and climate change
Looking for books about trees and woodlands?  Branch out and take a look at our list of woodland themed books. 
Booklist - Branching out into books!
Do you know of a great book about nature that deserves inclusion?  What other nature themed book lists would be useful? Please get in touch and let us know your suggestions, and we'll book up a plan!  
Hook into a book - Inspiration for learning in, about, and for the natural environment
Learners benefit hugely from spending time outdoors and books can act as the hook to inspire your learners to head out on a nature adventure. 
Spotting the learning potential offered in Emily Gravett's book 'Tidy', Ysgol Sychdyn Year 2 teacher Rebecca Shone, decided to explore some of themes of sustainably managing our natural resources the book features, with her learners.  Learn what the pupils got up to in the video below.
Video – Book inspired outdoor learning 
The same book, 'Tidy' prompted an outdoor learning adventure for 7-year-old Heti.  Having read the book with her Mum, Heti wanted to go out to a nearby woodland to learn more about woodlands and the animals that live there.  Enthused by the book, she took part in a range of hands-on outdoor learning activities that relate to the story and concludes by encouraging all of us to do little things to help nature. 
Video - Outdoor learning adventure... through books
If you can't find what you are looking for or would like any help or information, please contact us at: 
Email: education@naturalresourceswales.gov.uk
Phone: 0300 065 3000