Gwydir Forest Park - Sawbench, near Llanrwst
Historical walk with valley views and two mountain bike trails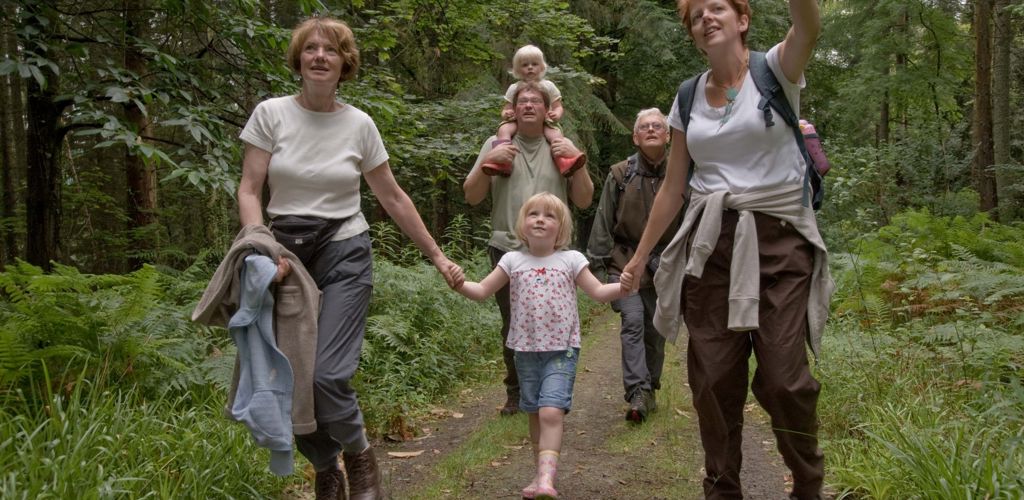 Coronavirus update
Our sites and most visitor facilities are open but, under the current coronavirus restrictions in Wales, this is intended only for the use of people who live locally.
You are strongly advised – in line with current Welsh Government regulations – not to drive to any of our sites to exercise unless you have specific health or mobility issues.
We have changed the normal route for some of our trails to help you maintain social distancing – please follow signs on site.
Overview 
Gwydir Forest Park
Gwydir Forest Park lies in the heart of the Snowdonia National Park.
Since Victorian times, generations of visitors have walked the woodland paths and fished the clear waters of the rivers here.
Today, waymarked walking trails allow visitors to explore this landscape of lakes, forests and mountains and to learn about its mining history.
There is also a mountain bike trail (which is graded red as it is only suitable for proficient riders), a forest garden and a waymarked walk to the famous Swallow Falls.
History of Gwydir Forest
Between 1850 and 1919, lead and zinc mining dominated the area. The legacy of old engine-houses, waste tips and reservoirs are characteristic features of the forest landscape today.
Nearly all of the lakes in the forest were created to serve the mines.
Several of the most important mines have been partially restored and made safe for visitors.
Nowadays, as you explore the extensive, rolling upland of wooded knolls, lakes and pastures, you will find it difficult to imagine that this was once a derelict industrial landscape.
Visiting Gwydir Forest Park
Gwydir Forest Park covers an area of over 72 square kilometres (28 square miles) and it encircles the village of Betws-y-Coed.
Waymarked walks start from the following parts of Gwydir Forest Park:
Llyn Crafnant, near Llanwrst, three waymarked walks around the lake and one of the finest views in North Wales
Llyn Geirionnydd, near Llanwrst, the only lake in Snowdonia for power boats and water skiing
Cae'n y Coed, near Betws-y-Coed, a field in the woods with picnic spots and a forest garden 
Ty'n Llwyn, near Betws-y-Coed, gateway to the famous Swallow Falls waterfall
Pont y Pair, Betws-y-Coed, a choice of peaceful forest walks away from the tourist bustle
Hafna, near Betws-y-Coed, a walking trail past the old mines of Gwydir
Llyn Sarnau, near Betws-y-Coed, a picnic spot with a walk to two hidden lakes
Sawbench, near Betws-y-Coed, starting point for a short historical walk overlooking Llanwrst (see below)
Sawbench
Sawbench is the starting point for the Gwydir Mawr Trail, a red graded mountain bike trail which means it is only suitable for proficient riders with good off-roading skills.
For walkers, there is a short walk with great viewpoints overlooking the market town of Llanwrst.
Closures and diversions
Sometimes we need to close or divert trails for your safety whilst we undertake maintenance work or forest operations
Occasionally we may have to close a site in extreme weather, such as high winds or snow and ice due to the risk of injury to visitors or staff
Please always follow any instructions onsite and make sure you follow any temporary diversion signs in place
Walking trail
The walking trail is waymarked and starts from the car park.  
Lady Mary's Walk
1¼ miles, 2.1 kilometres
This short walking trail is named after Lady Mary from the Wynne family who established the Gwydir estate – the summer house and chapel are nearby. There are benches along the route to enjoy the views over Llanwrst and the Conwy Valley towards the sea.  
Mountain biking trails
The 24.8 km Gwydir Mawr Trail is a long established mountain bike trail and, for those who want a shorter ride, the Gwydir Bach Trail follows 9.1 km of the main trail.
The mountain biking trails are waymarked and start from Sawbench car park.
See our mountain biking page for a list of all our mountain bike trails and information about grading to make sure you pick a trail that is right for you.
Please also read the relevant onsite information before setting off on your ride. 
Gwydir Mawr Trail
24.8 kilometres, grade red (difficult)
Gwydir Mawr has big climbs, big descents and brilliant singletrack. Most of the climbs are on forest roads and tracks giving time to take in the mountain views. The descents are on singletrack which varies from very tight, technical and rocky to open and flowing.

Gwydir Bach Trail
9.1 kilometres, grade red (difficult)
Gwydir Bach is the little sister to Gwydir Mawr but its two big climbs lead to the best descents of the whole trail. The singletrack varies from very traditional tight, technical and rocky to open and flowing, with a few modern features thrown in.
How to get here
Location
Sawbench is 1 mile west of Llanrwst off the B5106. 
It is in the county of Conwy.
Car parking is free of charge.
Directions
Take the B5106 from Llanrwst towards Betws-y-coed. After turning left at the brown and white sign for Gwydir Castle, turn immediately right onto a minor road. Take the first forest road on the left signposted Sawbench/Mainc Llifio.
Ordnance Survey map
Sawbench is on Ordnance Survey (OS) map OL 17.
The OS grid reference is SH 790 609.
Public transport
The nearest train station is in Llanrwst. For details of public transport visit www.traveline.cymru
Contact details
Tel: 0300 065 3000
Email: enquiries@naturalresourceswales.gov.uk
Downloads
Related document downloads