Minwear Forest, near Haverfordwest
Peaceful woodland walk with views of the Cleddau Estuary
This site and visitor facilities are open – please see more details on this web page.
Coronavirus update
The Welsh Government is introducing national measures from Monday 9 November.
They apply to everyone living or travelling in Wales.
Our sites and most visitor facilities remain open but people are advised to avoid non-essential travel as much as possible.
Visiting your local site safely
We have changed the normal route for some of our trails to help you maintain social distancing – please follow signs on site.
Please remember to wear a mask when going inside one of our buildings.
You can check-in via the NHS app when entering one of our buildings – scan the QR-code on the NHS Covid-19 poster on site.
Welcome
Minwear Forest is within the Pembrokeshire Coast National Park and is easy to find from the A40.
Together with nearby Canaston Wood, Minwear has been thickly wooded for centuries. 
This ready availability of timber encouraged the establishment of several local industries. Oak trees were used for shipbuilding and wood was converted into charcoal to fuel the iron foundry at nearby Blackpool Mill.
These industries had declined by the early 19th century and, during the 20th century, conifer trees were planted in place of many areas of former deciduous woodland.
Wildlife at Minwear Forest
Minwear is situated near the head of the tidal section of the Eastern Cleddau River. The tidal cycle leads to large fluctuations in water salinity which provides a varied habitat for wildlife.
There are waterside birds like herons and it is also is a great place to see woodland birds including long-tailed tits, great spotted woodpeckers and treecreepers.
In spring, the woodland paths are edged with the bright yellow flowers of lesser celandine and delicate white wood anemones and there are patches of bluebells under the trees. 
In the autumn months, the burnished colours of the red oak and beech trees in the woodlands are a spectacular sight.
Walking trail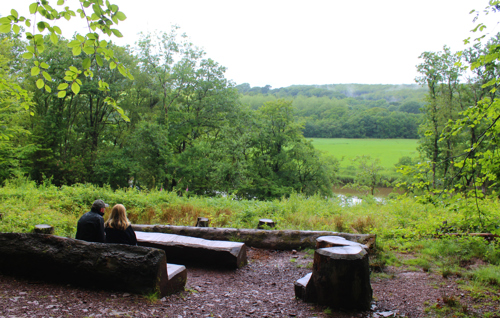 The walking trail is waymarked from the car park.
Minwear Walk
1½ miles/2.6 kilometres, easy
This waymarked circular walk starts from the car park and goes to a viewpoint with a bench over the Cleddau Estuary.
Along the way, there is an informal picnic area with wooden benches carved from tree trunks.
Closures and diversions
Please note:
Sometimes we need to close or divert trails for your safety whilst we undertake maintenance work or forest operations
Occasionally we may have to close a site in extreme weather, such as high winds or snow and ice due to the risk of injury to visitors or staff
Please always follow any instructions onsite and make sure you follow any temporary diversion signs in place
How to get here
Location
Minwear Forest is situated off the A4075, five miles west of Narberth.
It is in the county of Pembrokeshire.
Ordnance Survey map
Minwear Forest is on Ordnance Survey (OS) map OL 36.
The OS grid reference is SN 058 142.
Directions
Turn off the A40 onto the A4075 towards Tenby.
Take the first road on the right towards Blackpool Mill.
Follow this road past the mill and the Minwear Forest car park is on the right.
Contact details
Tel: 0300 065 3000
Email: enquiries@naturalresourceswales.gov.uk
Downloads
Related document downloads