Afan Forest Park - Glyncorrwg Mountain Bike Centre, near Port Talbot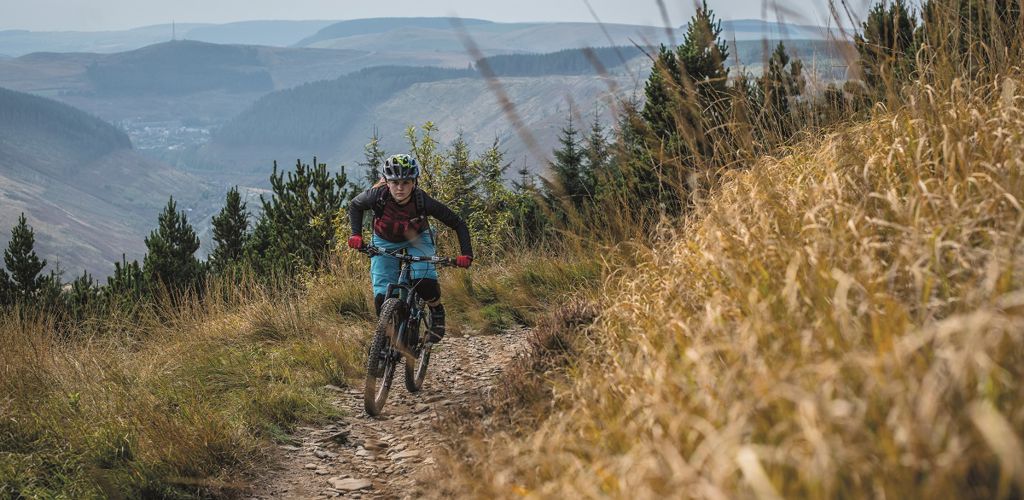 Mountain bike trail closures and diversions
Please follow diversion signs and instructions from staff to wait or give way, and be aware of timber haulage lorries.
See below for more details and see the information panels in the car parks and visitor centres.
There are diversions signposted on site for these trails:
W2
White's Level
Blade
Skyline 
Due to recent storm damage, some trail sections are closed with temporary diversions in place whilst we work to rectify the issues
Welcome
Afan Forest Park was created in the 1970s and has grown into one of Britain's iconic mountain bike destinations.
Situated in a former coal mining valley a few miles from the M4, the forest park offers mountain bike trails for beginners to expert riders.
Three of our red-graded mountain bike trails start from the car park at Glyncorrwg Mountain Bike Centre.
You can also join the green-graded Rheilffordd Low Level Cycleway from the car park here.
Most of our mountain bike trails start from Afan Forest Park Visitor Centre.
Mountain bike trails
All our mountain bike trails are waymarked from start to finish and have been graded for difficulty.
At the start of the trail there is an information panel – please read this before setting off.
Rheilffordd Low Level Cycleway
This gentle trail follows the wide, flat route of an old railway track that once carried passengers and coal the length of the valley.
Over 14 miles of disused railway and forest road link the communities of Pontrhydyfen with Blaengwynfi and Glyncorrwg and it's a great way to explore the Afan Valley.
White's Level Trail
Grade: Red (difficult)
Distance: 15.4 kilometres (with optional additional 2.3 kilometre black-graded loop)
Climb: 405 metres
Time: 1½-3 hours
This is the most technical of all the trails in Afan Forest Park and is 90% purpose-built singletrack.
A 6 kilometre sheep-track climb gives fantastic views of the Afan Valley.
Extreme exposure on tight singletrack means ultimate thrills and long, demanding descents with rocky steps to negotiate, all leading to one outrageous trail.
There is an optional additional 2.3 kilometre black-graded loop.
For a longer ride, combine with Y Wal Trail via one of the W2 links.
Blade Trail
Grade: Red (difficult)
Distance: 23.6 kilometres
Climb: 570 metres
Time: 2½-3½ hours
The Blade Trail has lots of singletrack, offering a great trail for more experienced riders.
This trail takes you to higher and more remote sections of the forest with amazing views over the Brecon Beacons National Park.
It twists and winds through the distant forest with some tough technical climbs and descents before dropping back to Glyncorrwg.
You can also add-in a loop of the Skyline trail but make sure you are properly equipped as this extra loop takes you to a very remote area with changeable weather conditions.
The 'Ghost Train' section of this trail is permanently closed, awaiting removal. For health and safety reasons, please do not ride this section.
Skyline Trail
Grade: Red (difficult)
Distance: 46 kilometres
Climb: 316 metres
Time: 4-7 hours
After being closed for several years due to the development of a nearby wind farm, the Skyline Trail has been redesigned and it reopened in October 2021.
The trail shares the same sheep-track ascent as White's Level, and continues on long, forest road climbs with sweet, flowing technical singletrack descents.
You will be treated to stunning, skyline views of the Brecon Beacons, the Preselis, the Black Mountains and the South Wales coast.
This route will test your stamina and your nerve, with technical singletrack such as sections 'On The Edge' and 'Excalibur'.
There are also 2 short-cut loops built into the trail.
Visitor facilities and car park
The car park, café, mountain bike shop, toilets and other visitor facilities at Glyncorrwg Mountain Bike Centre are privately managed.
For more information, go to the Glyncorrwg Mountain Bike Centre website.
National Forest for Wales
Afan Forest Park forms part of the National Forest for Wales.
The National Forest will:
create areas of new woodland
enhance existing woodlands
restore Wales' irreplaceable ancient woodlands.
In time it will form a connected ecological network running throughout Wales, bringing social, economic and environmental benefits.
For more information about the National Forest for Wales go to the Welsh Government website.
Closures and diversions
Sometimes we need to close or divert trails for your safety whilst we undertake maintenance work or other operations.
We may have to close a site in extreme weather, such as high winds or snow and ice, due to the risk of injury to visitors or staff.
Please always follow any instructions on site and any temporary diversion signs.
How to get here
Location
Afan Forest Park is six miles from junction 40 of the M4.
It is in the county of Neath Port Talbot.
Ordnance Survey map
Afan Forest Park is on Ordnance Survey (OS) map 165 and 166.
The OS grid reference for Glyncorrwg Mountain Bike Centre is SS 872 984.
Directions
Exit M4 at junction 40 onto A4107 towards Cymer.
Drive past Afan Forest Park Visitor Centre.
Continue for three miles to go through Cymer and then follow the brown and white signs for Glyncorrwg Mountain Bike Centre.
Public transport
The nearest mainline railway station is in Port Talbot.
For details of public transport go to the Traveline Cymru website.
Related document downloads