Rhyslyn car park, Afan Forest Park, near Port Talbot
Gateway to walking trails, world class mountain biking and family cycle routes in the hidden valleys of Afan Forest Park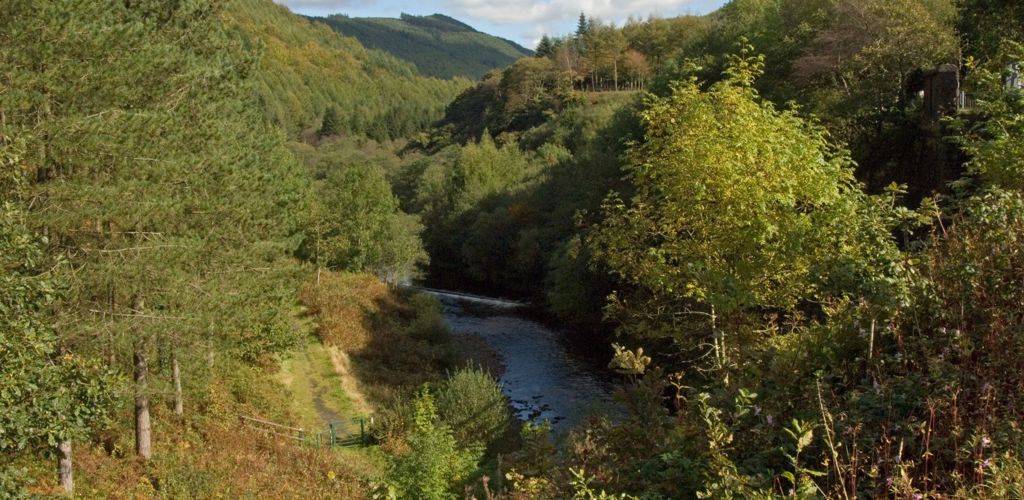 This site and visitor facilities are open – please see more details on this web page.
Coronavirus update
The Welsh Government is introducing national measures from Monday 9 November.
They apply to everyone living or travelling in Wales.
Our sites and most visitor facilities remain open but people are advised to avoid non-essential travel as much as possible.
Visiting your local site safely
We have changed the normal route for some of our trails to help you maintain social distancing – please follow signs on site.
Please remember to wear a mask when going inside one of our buildings.
You can check-in via the NHS app when entering one of our buildings – scan the QR-code on the NHS Covid-19 poster on site.
Overview
Afan Forest Park
Afan Forest Park lies just a few miles from Port Talbot within easy access of the M4.
The forest park nestles on the slopes of the Afan Valley which is one of the narrowest and most beautiful valleys in Wales.
A valley with an industrial past
The Afan Valley is rich in history. From early monastic estates, the landscape developed into a farming area and later a coal mining valley.
The last mine closed in 1970 and the area was designated as a forest park in 1972 because of its great walking potential.
Nowadays, waymarked trails criss-cross the valleys and hillsides through the forest, passing by abandoned mines, former tramways and disused railways.
Exploring Afan Forest Park
You can explore Afan Forest Park by following forest tracks and roads on foot or by bicycle.
Natural Resources Wales manages a number of waymarked walking trails which start from Afan Forest Park Visitor Centre and from the car park at Rhyslyn (see below)
Afan Forest Park is the fastest-growing mountain bike area in Britain. Natural Resources Wales manages a range of mountain bike trails that are suitable for everyone from beginners to expert mountain riders.
There is a network of bridleways in Afan Forest Park, some of which you need a permit to access. Please contact us to find out more about horse riding in Afan Forest Park or to apply for a permit.
Rhyslyn car park
Rhyslyn car park and picnic area sits on the former Pontrhydyfen railway station which closed in 1964.
The car park is a good starting point for mountain biking with access to trails of various grades.
There are also two waymarked walking trails, one along the river and one that climbs up the hillside.
Rhyslyn is within easy walking distance of the village of Pontrhydyfen where Richard Burton, the world famous actor, was born. As well as the waymarked walking trails below, there is a Richard Burton trail from the car park which goes past some of the places that were important to him.
Closures and diversions
Please note:
Sometimes we need to close or divert trails for your safety whilst we undertake maintenance work or forest operations
Occasionally we may have to close a site in extreme weather, such as high winds or snow and ice due to the risk of injury to visitors or staff
Please always follow any instructions onsite and make sure you follow any temporary diversion signs in place
Please see the Afan Forest Park walking updates for the latest information.
Our mountain bike ranger produces a regular update of any closures or diversions on the mountain bike trails. Please go to the Afan Forest Park mountain biking page to view or download the latest MTB trail update.
Walking trails
All of the walking trails are waymarked and start from Rhyslyn car park.
Rhyslyn Walk
1½ miles, 2 kilometres
The Rhyslyn Walk descends to the Afan riverside. It then follows the river upstream before returning to the car park along a section of the former South Wales Mineral Railway Line.
Penrhys Walk
3½ miles, 5 kilometres
The Penrhys Walk climbs the hillside above Pontrhydyfen. There are fantastic views of the village which is renowned for its many river crossings that were so vital in its industrial heyday in the 19th century. The trail then levels off and passes the ruins of the 18th century Gyfylchi Chapel, once a shrine to Welsh Methodism, before it descends back to Rhyslyn car park.
Mountain biking trail
There is a wide range of mountain biking and cycling trails from the Rhyslyn car park. For more information see mountain biking in Afan Forest Park.
How to get here
Location
Rhyslyn is just outside the village of Pontrhydyfen off the A4107.
It is in the county of Neath Port Talbot
Ordnance Survey map
Rhyslyn is on Ordnance Survey (OS) map 165.
The OS grid reference is SS 800 943.
Directions
From the A4107, turn down the B4287 towards Pontrhydyfen.
Take a sharp right turn just over the bridge as the road bears left.
There is access to and from Sustrans Route 887 from Rhyslyn car park.
Public transport
The nearest train station is in Port Talbot.
For details of public transport visit http://www.traveline.cymru/
Parking
Car parking is free of charge.
Contact details
Tel: 0300 065 3000
Email: enquiries@naturalresourceswales.gov.uk
Downloads
Related document downloads